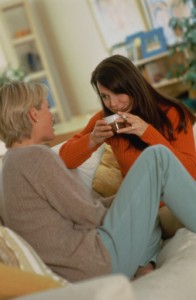 Many of us are at a loss about what to say when a friend has suffered a loss.  We know that we ought to say something, but we worry about saying the wrong thing.  So we may end up saying nothing at all, which may even be more hurtful to the grieving person who is already feeling alone.  The following article gives some useful tips about what to say, and why.
How to Help a Grieving Friend

"Don't feel bad." It's what we all want to say to a loved one grieving a major loss like a death or the end of a marriage. Our intentions are good: More than anything, we want to put an end to his suffering. But that's the last thing you should do, according to Russell Friedman, executive director of The Grief Recovery Institute in Sherman Oaks, Calif., and co-author of The Grief Recovery Handbook and When Children Grieve. "Grief is the normal and natural reaction to loss, and feeling sad or bad is not only appropriate but actually healthy," Friedman said. Read more...