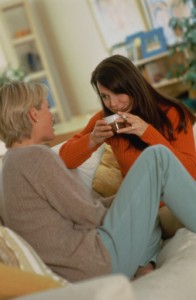 Many of us are at a loss about what to say when a friend has suffered a loss.  We know that we ought to say something, but we worry about saying the wrong thing.  So we may end up saying nothing at all, which may even be more hurtful to the grieving person who is already feeling alone.  The following article gives some useful tips about what to say, and why.
How to Help a Grieving Friend

By Stephanie Booth 

"Don't feel bad." It's what we all want to say to a loved one grieving a major loss like a death or the end of a marriage. Our intentions are good: More than anything, we want to put an end to his suffering. But that's the last thing you should do, according to Russell Friedman, executive director of The Grief Recovery Institute in Sherman Oaks, Calif., and co-author of The Grief Recovery Handbook and When Children Grieve. "Grief is the normal and natural reaction to loss, and feeling sad or bad is not only appropriate but actually healthy," Friedman said.

In an interview with AOL Health, Friedman advised how to offer emotional and physical support to your loved one while he works through this tumultuous time.

Acknowledge what happened. While bringing up the subject may feel awkward, it is necessary. "The griever needs and wants to talk about 'what happened' and their relationship to the person involved," said Friedman. "Robbing them of that opportunity is arguably the worst thing you can do."

Steer clear of cliches and advice. "She led a full life" or "he's in a better place" indirectly urges your friend to "get over" her grief. "You'll find somebody else" undermines her loss. And "I know how you feel" makes [the loss] about you, not the griever, said Friedman. Instead, speak from the heart: "I can't imagine what this has been like for you," "I don't know what to say," or, if you also knew the person who died, "I'm sorry."

Lighten his everyday load. Consciously or not, someone grieving spends an enormous amount of time reviewing his relationship with the person he's lost. "Think of an old-time flicker card movie with thousands of images flashing through their mind at warp speed," Friedman said. Your friend may be on an emotional roller coaster, not eating or sleeping as he normally does, or unable to focus. Keep his everyday life on an even keel by shopping for groceries, caring for the children or pets, or picking up relatives from the airport. If your relationship is close, you might also accompany him to funeral arrangement conferences and legal meetings so you can take notes and ask questions on his behalf.

Don't disappear after the funeral. "The largest percentage of heart attacks in surviving spouses happens seven to 10 days after the funeral, once friends and family members have returned home," said Friedman. No longer distracted by a flurry of appointments, responsibilities and house guests, isolation and depression can set in. Arrange for your friend to have companionship — anywhere from a matter of weeks to as long as six months — while she adapts to this life change.

Never push someone to open up. Everyone grieves differently. Some people may never want to talk to you — or anyone else — about their feelings. If that's the case, "let it be," advised Friedman. Instead, spend your time together pursuing activities or interests you have in common. "You will do them a great service just by being a friend," he said.

Know the warning signs. If your friend has ongoing sleeping or eating issues, is unable to concentrate at work or school, or is becoming increasingly more isolated, it's time to speak up. Friedman's suggestion for broaching this delicate topic: "I'm very concerned for you. I'll be glad to support you as you look for help and am here to listen if you need to talk about it."
www.GriefWell.com
healing. transformation. wellness.